Hi everyone,
We are excited to share with you an amazing fashion gala that Wonder Chic Events is part of coordinating! We are working with Sharleez Bridal to kick off it it's first fashion show cocktail event for the year featuring Toronto's most dedicated and hardworking fashion designers and bridal experts and vendors. The event will be held on Friday October 14, 2016 @ FountainBlu, Exhibition Place  – 200 Princes' Blvd, Toronto, ON M6K 3C3.  
The designers being showcased at this event include:
NARCES
LIDIJA
MARIE COPPS
D ROYCE CUSTOMS
IRINA SHAD
SHARLEEZ BRIDAL
This event will be a night of celebration, fashion, beauty and networking!

Some of the key highlights of this event will include:
– Runway presentations of top Canadian designers featuring their 2017 collection
– Bridal fashion trends by leading industry vendors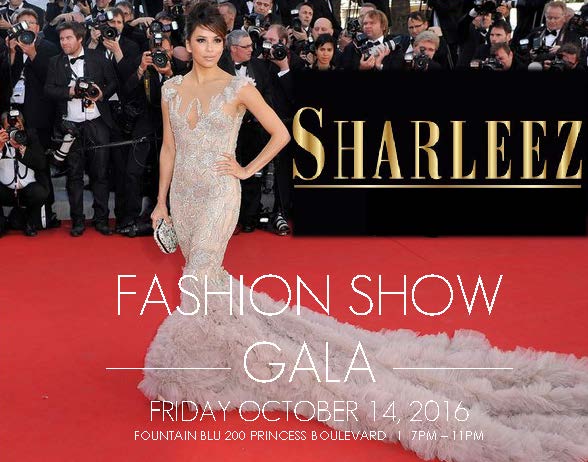 Entry Fee:
$35 in advance, $45 at the door
Upscale  Dress Code is strictly enforced
You are welcome to invite  and forward this announcement to everyone in your network.
Net proceeds to benefit the Sharleez Foundation. The principle of the Sharleez Foundation is to help women and children in need. Some of the initiatives that the foundation supports include: CIBC walk/run for breast cancer and the silent auction for the Breast Cancer Foundation. The proceeds of the Gala will go toward supporting people suffering from breast cancer and also to Operation Smile Canada. In addition, the Sharleez Foundation is helping to support George Brown College design students in recognizing their talents by providing them with opportunities within their field.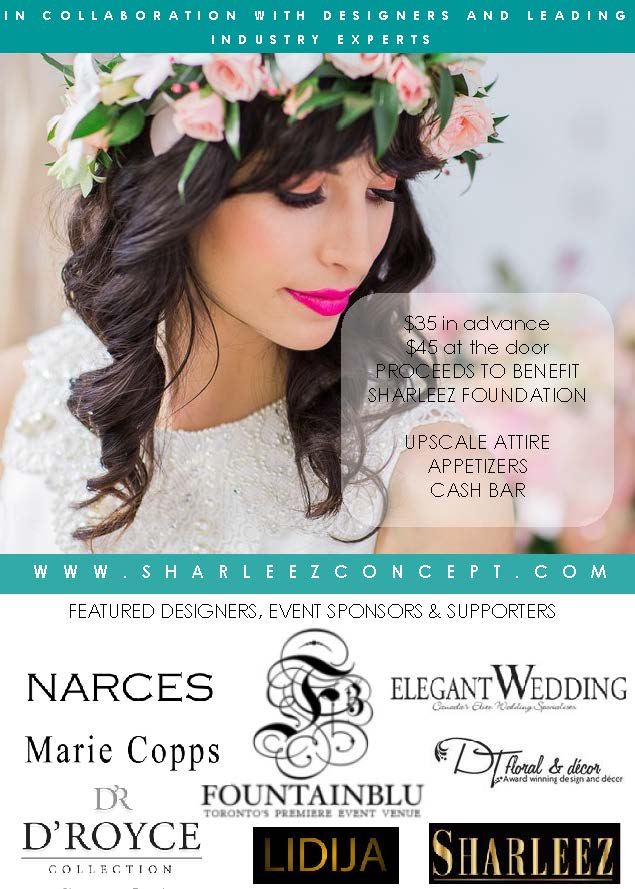 Photo credit of model with floral crown: @thiso_makeup @traceymevents @avephoto @opulence_floral @laurrojas

WHEN

WHERE

FountainBlu – Exhibition Place – 200 Princes' Boulevard, Toronto, ON M6K 3C3 – View Map
PURCHASE TICKETS TODAY
https://www.eventbrite.ca/e/sharleez-fashion-show-gala-tickets-26859024064
We look forward to seeing you all there!
XO,
Cindy Li
Certified Wedding Planner, Wonder Chic Events
*****
Wonder Chic Events is the wedding planner for urban, stylish and fun couples. We would love to be your right-hand partner in helping you plan your big day from the moment you say "Yes" to the Proposal until the day you say 'I Do" down the aisle. Contact us today for a complimentary initial meeting to discuss your beautiful, unique and heartfelt day with us over coffee/tea at a location that is convenient for you. Let us take care of the details so you can spend quality time with each of your lovely guests and enjoy your wedding day with peace of mind!